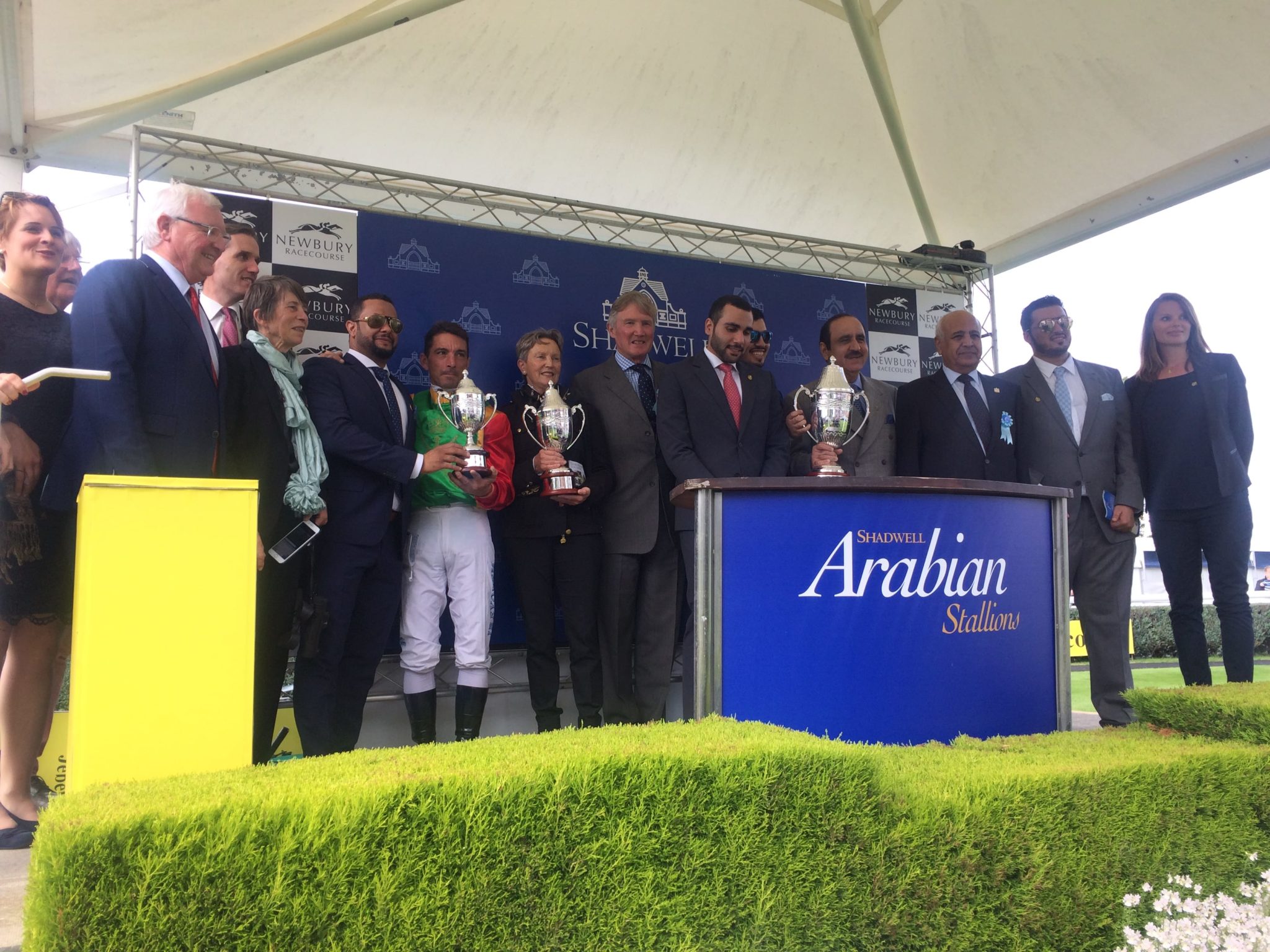 How the Royal Ascot of Purebred Arabian racing featured a horse racing Queen
WOMEN played a starring role in this year's Dubai International Arabian Races, including the best female trainer in the world.
Elisabeth Bernard's horse, Sylvine Al Maury, won the £17,500 top prize in the Hatta International Stakes Group 1 at the hugely prestigious event held in Newbury, Berks. The mare wore the colours of the Royal stables of Oman, and was ridden by Jean-Bernard Eyquem.
It marked another success in Elisabeth's career as a trainer – one that started following the tragic death of her husband, Jean-François Bernard, in 2015. Mr. Bernard was himself the legendary coach in charge at La Teste de Buch Race Course, on France's south west coast, close to Bordeaux.
It is now Elisabeth who runs the training centre. She said she used to do everything with Jean-François but "Now I do everything alone", thus showing owners and managers that anything is possible.
Elisabeth studied and took exams at the age of 60 – "when most people are preparing for retirement" – and "got the coaching license that allowed me to continue to operate my husband's business."
In an interview soon after the painful loss of Jean-François, Elisabeth said: "It's not a question of a man or woman, but that the owners had chosen my husband and not me.
"He was the trainer with the talent, the good eye, and the experience. I helped and we were a partnership, but now I must prove that I can do the work alone as well.
"Until now many different owners have stayed with me, but the number of horses is less than they were before."
The Royal Ascot of Purebred Arabian Racing
Two years on, Elisabeth is responsible for 52 horses – almost all pure Arabians – and rides them every day.
She was able to showcase the progress she has made at the 15th Dubai International Arabian Races, which has been dubbed the Royal Ascot of Purebred Arabian racing.
It took place in Newbury on July 30th, with more than 8,000 people turning up to watch 26 runners from all over the world compete in eight races. There was an overall prize pot of £193,000 – an increase of £13,000 on 2016. An exceptional 189 entries – up on 158 last year – yielded 86 horses taking part in the race.
The event attracted horses and trainers from five different countries in Europe – France, Sweden, Italy, Holland and the UK – as well as from North Africa and America, thus making it the world's most renowned Arabian horseracing fixture.
The flagship raceday was organised by Sheikh Hamdan bin Rashid al-Maktoum, deputy ruler of Dubai and the minister of finance, and a man who is doing so much to democratise a sport that brings £4billion a year into the British economy.
Sheikh Hamdan's main passion is to promote Purebred Arabian racing worldwide, from the grass-roots to the highest level.
Simple Arab values – especially love of the family – are at the heart of the Sheikh's philanthropy, and this is why thousands of boys and girls attended the Newbury event for free, alongside their parents.
Beyond the racing, plenty of opportunities for all to engage with Arabian horses and culture were provided, ranging from pony rides, and falconry displays to henna hand decorating.
The emphasis was on fun, with competitions involving the best dressed lady and best selfie, and gifts and prizes including goodie bags, a new Citroen car, jewellery, I-pads, and five-star holidays to Dubai.
The Newbury race also offers a chance to strengthen bonds between the UAE and local communities in Britain. This year, 15 schools from Berkshire and Hampshire took part in the Arabian Rainbow competition, which has awarded at least £90,000 to educational establishments over the past eight years.
The contest challenges pupils and teachers to paint near life-sized sculptures of Arabian horses, with their own design reflecting Anglo-Arabic art. The money donated will be used to spend on computers and improving facilities.
Local businesses and staff also benefit from the Sheikh's £20 million investment in Newbury to build new horse racing installations, including stables, parade rings, and supply VIP trainers' equipments.
Dubai International Arabian Races (DIAR) coordinates the event every summer, along with the Shadwell Stud in Norfolk, which Sheikh Hamdan set up in the 1980s after he was introduced to Thoroughbred flat racing while studying languages at Cambridge.
Female Success
Elisabeth's wonderful horse, Sylvine Al Maury, whose past triumphs have included winning the same race under the same jockey at Newbury the previous year, was yet again a massive attraction this year. The majestic mare's 2017 victory was even more spectacular, however, as she had shrugged off a long layoff to hold on in the soft ground and win by a head.
Another female success at Newbury was Dutchwoman Karen Van Den Bos, who won £29, 000 with Lightning Bolt – a horse named after Jamaican sprint legend Usain Bolt – in the Shadwell Dubai International Stakes Group 1.
Elisabeth and Karen's backgrounds illustrate just how international the increasingly must-watch fixture of Arabian horse racing has become.
Discussing her pride and joy before her trip to Berkshire, Elisabeth said: "I like to ride each horse, as I can tell a lot from my senses and the horse's reactions.
"A good example of this is Sylvine Al Maury. When she arrived at the stable she was three years old.
"She was nervous and she did not breathe well. Jean-François asked me to ride her one morning because he thought that she had good action, but she still did not work well.
"That first day I understood immediately what she needed. We put blinkers on her to calm her, and I rode her for several months.
"She became quieter every day and this work resulted in her being the best four-year-old Arabian race filly in France this year. This, of course, was thanks to the eyes of Jean-Francois, and my riding her.
"I adore this kind of communion with this animal and Arabian horses are far more intelligent than any other breed. They truly are people's horses".
Elisabeth works with French breeders and owners from the Persian Gulf: the Emirates, Saudi Arabia and the Sultanate of Oman.
She said: "These are people who are very modern in their minds and have no prejudices against women either, which is a good thing.
"Thus the Muslim world shows that it admires abilities as much in women as it does in men."
It was in Los Angeles, California, in April, that Elisabeth was crowned Best Female Racehorse Coach.
This followed 23 victories out of 60 races in France and internationally in 2016 for Elisabeth, who first started riding as a schoolgirl, becoming an amateur world champion in 1995, before she began training in 2016.
Her love of Arabian horses developed in Oman, where Jean-François Bernard moved to coach at the Royal Stable for five years.
Praising Sheikh Hamdan's dedicated efforts to boost Arabian horseracing, Elisabeth said after her victory at Newbury: "It's good to see such a variety of horses and trainers here. It's a cosmopolitan event which allows Purebred Arabian horses from anywhere in the world to have a go and potentially win.
"Sheikh Hamdan is a formidable sponsor for the Arab horse" – one that is always showcased spectacularly at Newbury.
Nabila Ramdani